We are excited to announce that we will be providing cosmetic/facial rejuvenation acupuncture as part of our amazing treatments for our patients. This will be provided as a separate service to our other treatments.
You may have tried acupuncture for pain relief or for other health conditions, but what about for a natural face lift?
Yes, that's right, cosmetic acupuncture (known as facial rejuvenation acupuncture), has garnered quite the following among a lot of celebrities who are wanting a natural alternative to Botox.
What is Cosmetic/Facial Rejuvenation Acupuncture?
Cosmetic Acupuncture is an ancient practice used in Traditional Chinese Medicine (TCM) and dates back to the Emperors in China. It was a common practice used by concubines and be Geishas in Japan, and it's still around today!
The reason so many are trying cosmetic acupuncture is because they don't want to us botox, fillers and all the stuff in between any longer. This technique is completely natural, safe and relatively pain free. Compared to botox, there is no comparison with regards to pain.
Rather than filling your skin with chemical injections, your face will instead be covered with fine acupuncture needles that assist with creating an instant lift and over time, can assist with erasing fine lines and wrinkles. It may also be used for assisting with acne and other skin conditions.
Working with other cosmetic treatments
Already had Botox or fillers? No worries!
Cosmetic acupuncture can work around the beauty treatments you've already had, and help to enhance those treatments. 
So how does it work?
Fine needles are placed on your face at specific acupuncture points. One of the ways it works is the 'microtrauma' caused by the needle encourages blood flow and the body's own wound healing processes.
This process results in the rebuilding of collagen under the skin, which can assist with producing visible reduction in fine lines, tighter skin, healthy muscle function and softer wrinkles. Not to mention the other health benefits acupuncture may assist with. 
What Will I feel?
When people call us to find out more about facial rejuvenation acupuncture, one of the main question they ask is……'Does it hurt?'
Compared to botox injections and fillers etc, there is no comparison. Very fine acupuncture needles are used so that you can hardly feel anything. Some people feel next to nothing and others may just feel a tiny sensation at the base of the needle.
At our clinic we will be working hard to make your experience a very relaxing and blissful experience. Most of my patients will bliss out and nap during their treatments.
How Many Treatments Are Needed?
There is no one treatment fix all for anything to do with our health. A series of treatments are needed to give the best results.
Regular treatments are needed at first. Depending on one's age, and health, results may take a few treatments to really show the effect. However, most people will see the benefits from the first treatment. Treatment plans may vary depending on the individual, and our staff will explain this too you on booking. 
Treatments usually start with 1- 2 treatments a week for the first six weeks for the best results. We can tailor treatment plans to suit you. 
For those people who are time poor, or always busy, once a week consistently for twelve weeks will also show great effects. It is like anything to do with our health. What you put into it, is what you get out of it.
Monthly maintenance, like most things, is needed for the best results.
Regular treatment combined with proper diet,  lifestyle changes, good sleep habits, exercise, sunlight, and reduction of being busy are all key components to  assisting with good health.
As many are aware, studies have shown that stress is a major component of ageing and inflammation, so reducing stress is particularly important if you want assist with slowing the ageing process down.
What to expect after treatment
 After a treatment most of our patients will notice a bright and refreshed quality that shines out of their faces. Patients will generally see immediate changes in skin contour and tone, lines and wrinkles, brightness and tightness.
Cosmetic acupuncture has also been known to reduce puffiness, increase collagen in the face and soft surrounding areas, relieve stress, give you glowing skin, reduce scarring, and even out pigmentation. All this can be done without the nasty chemicals that many are now not wanting to use.
The only way to find out is to give cosmetic/facial rejuvenation acupuncture a go. Everyone's health and beauty routine will be different, but acupuncture could really make a difference to how you look at how you feel.
Qi Beauty Products & Take Home Packs
We are combining our acupuncture facial rejuvenation treatments with the amazing Qi Beauty products and take home packs. Qi beauty have a whole range of beauty and facial rejuvenation products that are sustainable skin care, age control, wholistic anti-ageing and optimal skin health.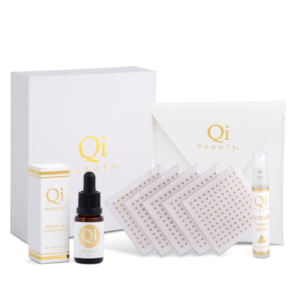 The Qi Beauty favourites bundle is a take home pack which includes special static magnets that you can put on specially selected acupuncture points. You can also enhance the repair potential of your skin with the feed skin nutrients for organic recovery with Intense Oil featuring Qi beauty Sea Buckthorn Oil.
We are really excited to be offering this amazing range as part of our cosmetic treatments. 
Other services within your facial rejuvenation treatment
There will also be other treatments we use within your treatment. This can include moxibustion, our customised facial rejuvenation laser therapy unit, and other selected therapies to enhance your skin care.
We also carry a range of vitamins, supplements and nutritional medicines to assist with overall health.
You can also choose to undergo our microbiome restore, to help with better gut health and digestive health as well. Good health always starts with good gut health and a health microbiome. This is not included and comes at an extra cost. Please ask our friendly staff for more information.
Making your appointment
If you would like to give cosmetic/facial rejuventation acupuncture a try, then please give my friendly staff a call and they will be able to book you in and explain more. You can call the clinic on 07 38328369, or email info@drandreworr.com.au.
You do have to come in and have treatment in person as there are no online options for these treatments.