Dr Andrew Orr has also done his own independent observational research studies into 'Acupuncture and Moxibustion assisting Breech presentation' during pregnancy. He is one of the only independent healthcare practitioners in Australia to have done this research and have a special interest in these areas of pregnancy and why he is referred to by leading specialists and pregnancy healthcare providers.
There is also lots of research into this area and there is now good evidence to show that acupuncture may assist in helping with the breech presentation, alongside and in conjunction with medical interventions.
There are many reasons that a woman may seek help and assistance with acupuncture and moxibustion for breech presentation prior to medical interventions.
Acupuncture and Moxibustion and is far less invasive and much safer than External Cephalic Version (ECV – manual manipulation of the baby)
Medical processes are not always effective and can be a  painful and intense experience.
A woman's obstetrician, general practitioner, or midwife may have referred her for assistance, prior to trying medical interventions.
Leading obstetricians refer their pregnant patients to Dr Andrew Orr's clinic for assistance with breech presentation, before trying medical interventions, or at the same time as using medical interventions. Dr Andrew Orr's clinic has a very symbiotic relationship with many of our leading Obstetricians, midwives and pregnancy healthcare providers to ensure the highest quality care and assistance is provided to all patients during their pregnancy.
Treatments begin with a 15 minute massage on our electric massage chairs, followed by acupuncture and moxibustion to specific points on the body. The treatments are very relaxing which is needed for the mother during this time. During treatment, moxibustion is applied to the acupuncture needle on the little toe (UB67), which is one of the main acupuncture points to assist with turning the baby and relaxation. We generally recommend between 1 to 3 treatments. The clinic staff will explain the process to you.  A woman can begin treatments from 31 weeks onwars and after recommendation from her specialist, midwife, or primary healthcare provider.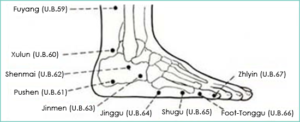 References 
Turning Foetal Breech Presentation at 32-35 Weeks of Gestational Age by Acupuncture and Moxibustion. Brici , Franconi , Scatassa , Fabbri , Assirelli- https://www.ncbi.nlm.nih.gov/pmc/articles/PMC6590647/

Coyle M. E., Smith C. A., Peat B. Cephalic version by moxibustion for breech presentation. Cochrane Database of Systematic Reviews. 2012;

5, article CD003928

 [PubMed] [Google Scholar]

van den Berg I., Bosch J. L., Jacobs B., Bouman I., Duvekot J. J., Hunink M. G. M. Effectiveness of acupuncture-type interventions versus expectant management to correct breech presentation: a systematic review. Complementary Therapies in Medicine. 2008;

16

(2):92–100. doi: 10.1016/j.ctim.2008.01.001. [PubMed] [CrossRef] [Google Scholar]

Vas J., Aranda-Regules J. M., Modesto M., et al. Using moxibustion in primary healthcare to correct non-vertex presentation: a multicentre randomised controlled trial. Acupuncture in Medicine. 2013;

31

(1):31–38. doi: 10.1136/acupmed-2012-010261. [PubMed] [CrossRef] [Google Scholar]

 Neri I., Airola G., Contu G., Allais G., Facchinetti F., Benedetto C. Acupuncture plus moxibustion to resolve breech presentation: a randomized controlled study. The Journal of Maternal-Fetal and Neonatal Medicine. 2004;

15

(4):247–252. doi: 10.1080/14767050410001668644. [PubMed] [CrossRef] [Google Scholar]